1) Miss Bubbles
We recently came across the sad story of Miss Bubbles online and saw that Paws to the Rescue was looking for a sponsor for her. Here is the post Paws to the Rescue wrote about her:
"Poor Miss Bubbles- clearly NOT loved and cared for. She showed up on a local pitbull breeders property and he brought her to us. She was INFESTED with fleas. And THAT is an understatement! Fleas had embedded themselves in her mouth and all over her body. She was SO covered in fleas that when washed her in the tub at the vets office, the fleas clogged the drain! She also has a HUGE hematoma on her one ear. Her ears were SO infected they had pus RUNNING out of them! Yet, Miss Bubbles is SO sweet and friendly! It's amazing that she is STILL so trusting of humans….WHY should she be?
Here is the description of Paws to the Rescue:
"Paws to the rescue is a Non-Profit, No-Kill animal rescue organization that is dedicated to saving as many animals as possible from euthanasia. We believe that every animal deserves a healthy, loving home and to be treated with compassion. We do not believe that euthanasia is a legitimate form of population control. The organization encompasses many facets, including networking with other shelters and rescue organizations, coordinating volunteer transports, and currently managing the Marion County Animal Shelter in Mullins, SC. PTTR strives to reduce the number of unwanted animals by increasing public awareness of the pet overpopulation problem, educating the public about responsible pet ownership, and promoting spay/neuter programs and assistance. Our work will ultimately transform the Marion County Animal Shelter into a No-Kill facility."
We have yet to interact with Paws to the Rescue but the founder emailed us back right away after make the donation. We asked them to follow up once Miss Bubbles has a new home so will follow up her once they do. They seem to do a lot with a little at their rescue so if you are looking to donate some money to a rescue please give them a look.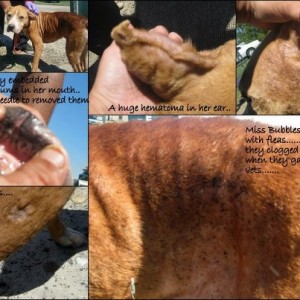 2) Roscoe
So, we had a follow up to write about one of our favorite organizations that we have worked with: Herd it Through the Grapevine. Marina at Herd It was one of the first rescues we ended up helping out and we talked to her for an hour one weekend. She was extremely nice, passionate, etc-a really amazing person. We donated money for an amputation for a dog named Bodhi and in the end the vet decided last second to keep Bodhi's leg. Marina asked us if we wanted the money back and we said that we wanted her to keep it and use it when she had another expensive case where she could use the funds for vet care.
Almost a year later, we recently heard from Marina that she was using the funds for a great dog named Roscoe. We were delighted that she got back in touch with us and wanted to write about her again because she kept the funds separate for a year and then used them just as she said she would. Here is the kind note she sent to us:
"This little dog has cost us nearly $x, between his leg and his G.I. issues! But, he is a wonderful personality and a happy, sweet little character. His fosters decided to adopt him.  Here are some photos I took today at his home.  Roscoe, now Benny, looks and acts much healthier. Again, thank you so much for making it possible for us to do all the veterinary work needed to allow this boy's story to have such a 'happy tails' ending." Roscoe had all kinds of problems from having an old elbow dislocation, a fused bone, bad GI problems needing a traveling vet to administer an IV, etc. Marina saved Roscoe to say the least.
We think Marina is just great so we definitely recommend donating money to her charity directly. She will do amazing things with it!
3) Roxy
We saw the other day that our favorite dog rescue group SFTH (where we help volunteer by answering phones and helping with some events-we wish we were closer to do more but they are in NYC) put up a chipin for a recent rescue: Roxy. SFTH does an amazing amount of good every year on a very limited budget. It is a grassroots, bootstrapped effort that we have witnessed first hand so we were delighted to donate the money for Roxy's teeth.
Roxy was pulled from Brooklyn Animal Control and already has a great foster lined up-her only problem is that she has a mouth full of rotten teeth and needs some pulled. We can guarantee you that SFTH will do amazing things with any donations you give them. We donated a modest amount for Roxy and they really work miracles so we wholeheartedly recommend that if you are looking for a place to donate you consider donating to them. You will not find a better rescue. Donations can be large or small-they will all be appreciated. Rescues like SFTH do all the hard work including rescuing dogs from the shelter, taking them to the vet, paying for their treatment, locating suitable fosters, and then finding loving homes. Donating a few dollars to help them in their efforts will go along way or if you have time to donate they are very very easy to work with. Just email them or call them if you are interested in helping out!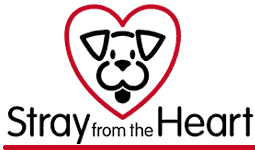 4) Tigra and Brady
We came across a rescue organization on facebook named Middle Mutts that we think is very special. Their stated mission is "Middle Mutts is an ALL VOLUNTEER 501(c)3 Non-Profit that works as the "middle man" between high kill shelters and rescue groups. We assist specific shelters and their local volunteer support groups by helping to "kick start" rescue efforts." Every day they have a number of posts looking to raise relatively small amounts of money for everything from pull fees, transport fees, heartworm medication, etc for individual dogs in order to help get them rescued. As they put it, they are a "middle man" in the rescue process. We were on their page tonight and saw they needed money for two dogs they had rescues set up for named Tigra and Brady-all they needed was a little money for each to transport them. Tigra is a greyhound mix and from her description she sounds like a hoot. We were delighted to be a small help to them and help get Tigra and Brady started on their new life.  You should definitely look them up on Facebook-they do a lot with their donations!
5) Saving the Animals of Rowan
We came across STAR (Saving the Animals of Rowan) through some google searches and thought they were doing such a great job that when we read they were trying to raise money for food for the winter we wanted to do our small part to help. They advertised on their site that they like to find donors to inspire others to match them so we offered a donation and told them they could use it to try to get matching donations for food or not as they saw fit. We got an email back within minutes, literally, and they were so nice and easy to deal with we are glad we found them. They are a really great organization in Morhead, Kentucky so if you are looking for an organization to help out give them a look.
Here is some info on them:
"STAR is a small 501c3 all-volunteer dog rescue organization located in Morehead, Kentucky with volunteers in surrounding towns. We pull dogs from the Rowan County Dog Pound to help keep their kill rate low and also occasionally take in owner surrenders as space permits.  We work extensively with rescues throughout the northeast and midwest to facilitate placement of our dogs into loving indoor homes.  STAR has transport assistance available to approved rescues in the northeastern and midwestern states.  We are on Facebook and Petfinder."
6) Children 4 Horses and New Hampshire SPCA
We recently had the great fortune of running across an amazing young child who was raising money for a horse named Scarlet to "adopt" her for the holiday. What is remarkable about Declan is that he is only ten years old, won the ASPCA Humane Kid of the year award, spoke in front of congress on an animal slaughter bill, has his own blog, and raises money and awareness to save animals.
He has done more by age ten, then I have done in my entire life and if he does not inspire you to go out and help someone then there is something wrong with you. We saw that he was raising money for Scarlet and were delighted to be a small part of his effort. We offered to fund half of the amount he needed if he could find matching funds. This was not a huge amount of money but we thought he would enjoy using the match as a way to generate awareness and he got way more than he needed. We told his mother we would of course cover the rest, but he surprised us and raised it all in two days. Go Declan!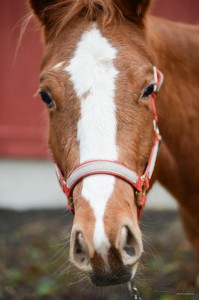 7) Stray dog at Blue Sky
We are on the email list of one of our favorite rescues, Blue Sky Dog Rescue, and received an email the other day about a dog for which they were hoping to locate a rescue:
"A good Samaritan in Germantown found this timid, quiet, sweet dog (approx 1 year old and not neutered) and needs to quickly find someone to foster or adopt.  The woman has kept him for a week trying to find him a home with no luck and she is about to take him to a (kill) shelter or pound."
Our last experience with Blue Sky was so great that we emailed them and offered to sponsor his vetting and neutering if they could find a foster. They were full, but were scrambling to save his life. They emailed me back quickly as usual and within a day located a foster. Their emails are always so thoughtful and nice. The last email we received was "we will make sure little "Adrian" is well taken care of and we will also make sure he is adopted out to a loving family" and then they wrote a nice message on their Facebook wall.. We love the internet sometimes. We feel connected to Blue Sky though we have never met them and can tell they are great people to say the least.
I checked to see if there were any pictures of him on their facebook account and to my surprise they actually are temporarily calling him Adrian until they find him a new family…lol! If they had named the dog Jen, I would have no choice but to adopt him myself. Well, he is well on his way to a new life. "He is a super sweet dog that would really make a wonderful pet and companion. He just wants to love and be loved." Please adopt him quickly and give him an actual name so he is not stuck with "Rocky" impressions his entire life like me!
8 ) The Park Pet Haven Rescue
We came across an awful post from the Park Pet Haven Rescue that we couldn't believe:
"We arrived to our adoption event today and went to where we store all of our cages bedding, and supplies. We were shocked to see that ALL of our cages and some of our bedding was stolen. We had about 40 cages stolen from us and some dog beds as well. We desperately need your help to raise enough money to buy 40 more cages so we can continue to hold adoption events every weekend. Adoption events are CRUCIAL to getting dogs and cats adopted, especially bully breeds. Please help us. We help so many homeless animals and this has put us at a standstill. We are devastated."
Yes, you read this correctly, someone stole all the cages this rescue uses to host adoption events on the weekend. Moreover, authorities think this was done Christmas morning when nobody was around. Here is a link to a local newspaper article on it if you are curious for more information:  http://www.ajc.com/news/news/local/dunwoody-pet-rescue-group-hopes-crate-thieves-get-/nThkS/
I can't imagine what they would steal the cages for beyond trying to sell them for scrap metal but cages are very expensive and so we decided to help out by finding cages online and donating them the money to order a few of them. In our experience thus far, people rally around a situation like this so if a number of people join the cause and each donate a cage or two or three then the rescue can get back to saving lives. At this time, they have almost raised all the money needed to continue their do-gooding.
This rescue is doing a lot of good in Tucker, Georgia so you should check out their site or Facebook page. "