1) Cosita Bonita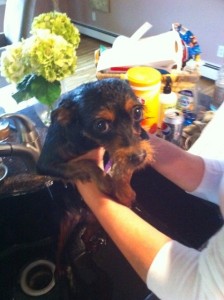 This page is going to be intentionally short because we spent more time talking about Cosita on the fostering section of this site:  http://mavsrescuefriends.com/fostering/. When we first settled on the idea for Mav's Rescue Friends we did not plan to foster but an alert was sent out about Cosita and we thought we might be able to help by fostering her. The experience changed many of our views on animal rescue and three months into the fostering process we decided to permanently add Cosita to our family.
As we adopted Cosita after we started this website, we may have to change this to Mav's and Cosita's Rescue Friends down the road. However, in the interim we at least have this page up for Cosita so we do not get accused of playing favorites
Cosita has been a pure joy to have around from the moment we picked her up, but unfortunately we noticed right away that she had an oddly shaped leg. What we learned after getting her leg x-rayed and examined by our veterinarian is that her leg was broken in two places as a puppy and was never treated. The various options for her leg including surgery are difficult to choose between and what we should do is less than obvious.
Our vet spoke with an orthopedic specialist who thinks we should give her the surgery while she is young as she will likely recover well due to her age. However, our vet thinks we should not put her through the surgery as she is light and won't put on a lot of weight that would stress the leg. We are going to get another opinion and keep looking around the internet but the issue is mainly that she does not appear to be in any pain from her leg as it is today. She can run around fine through the yard and surgery has its risks. She in fact might be worse off after the surgery or is likely to be worse than she is today. However, it is unclear if she will develop arthritis or worse as she gets older so from an entire life perspective it may be smart to do it now. The surgery is not only risky and painful but it will require six months at least of healing and for her to be cage bound for months on end. She has had such a tough life thus far that it seems extraordinarily difficult to put her through that unless it is a no-brainer for her.
This has been a great learning experience because we are having trouble making a decision on our own dog so are definitely not able yet to help distribute money to others whose pets need treatment. Surgeries of this kind are quite expensive so if we were trying to donate money to others who need help would you donate this large amount of money on behalf of our future donors when there isn't a consensus on the treatment?One of the vets we spoke with when setting up Mav's Rescue Friends advised us that we should think about the most practical solutions and not the ideal solution as there is not enough money from donors out there to perfectly treat every animal that needs care. We are still having trouble with this idea. In the case of Cosita, the questions we need answered are 1); how long is she likely to be fine like she is right now in a best case and worst case scenario; 2) if she is in no pain now and becomes in pain later will the surgery later be equally as effective; 3) if the surgery won't be possible when she is older (e.g. 10 years old) because her leg will have continued to grow in an odd way, would her life be better off being pain free for 5-10 years and then having a different type of surgery or amputation when she is older? These are all very tough questions and we are not biased one way or another right now but hopefully will get a couple of good opinions on this. The key for us is what the downside is to waiting and how likely that downside is as we don't want her to experience more trauma in her life.
Once we open up to outside donations, we will have to figure out a process by which to figure these things out. Is it better to help four dogs for the same cost as one really injured dog's surgery if you have limited donations? It may seem logical that it would be at first glance but it does not seem humane or fair so we would not be able to approach things that way. Should it then be based on who is working the hardest to save their pet or some other human criteria? Is that then fair to the animals? Suffice it to say, we have no answers to any of this yet. We are learning a little bit at a time and hope to find some wisdom on all these questions at some point.
Update on 11/28/11
We recently took Cosita to an orthopedic specialist after she came up limping one day after too much play. He was very nice and caring and we were delighted to have him look over Cosita's leg. He told us all the issues he saw and said that it is not clear what to do. We should monitor her over the next few months and see if she limps more or if it is just once a month or two. The issue is that if it gets slowly worse then she will develop inflammation and arthritis over time that will be incredibly painful for her and untreatable. However, if we have the surgery with screws right now to straighten her leg she will not develop the inflammation in all likelihood though it will be incredibly painful for her. He said he had seen dogs with worse injuries be fine for life and on the other hand seen ones with smaller injuries that needed the surgery. The best thing Cosita has going for her is her weight-she is not putting a lot of pressure on her leg though she runs around like a Labrador puppy.
It seems like the only thing we can do now is wait. If her leg does not bother her and cause her to limp except for every so often it seems like the best thing to do is let her be. It seems easier to make health decisions for ourselves rather than her-you just don't want to make the wrong decision for someone relying on you.
Update on 11/29/11
We received an email from someone we met at a rescue discussing our fears about Cosita long term. One major fear we have is that if we don't treat her now because she doesn't need it today (which she doesn't) it will put her in a position to need an amputation long term. We would be less concerned if it were her back leg but this email we thought put things in better perspective:
"I am very sorry to hear about your own dilemma with Cosita.  Sometimes it's a choice between two unpleasant choices.  I feel losing a front leg is more difficult to deal with.  I fostered the most wonderful dog, whose front left leg had to be amputated. She was very depressed for the first week or two, and then just started dealing with it.   She fell on her face and belly frequently for a month, but slowly learned to balance herself.  I placed a harness on her (one that doesn't rub on her incision area) and held her up when she jumped out of the car and other downward movements.  It prevented a lot of chin bruising!  Walking took a lot out of her, as she would hop, hop, hop, when the rest of us walked smoothly.  She eventually mastered stairs and running pretty well…It took her about 3 months to get the hang of it.  In the end, they say that 3-legged dogs can do anything a 4-legged one can do.  After the initial healing and learning curve period after an amputation, I was told that if you don't treat them like special needs dogs, they will learn to be like everyone else.  I hope this information helps you make a decision about your Cosita."
2/26/12
Here are some pics of Maverick and Cosita. Her leg is hanging in there for now-we still haven't made any decisions. We never thought we would see the day where Maverick was cuddling with another dog!
2) Rex and Hudson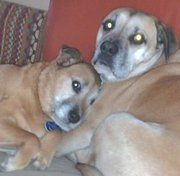 We came across this post through one of the rescue feeds we receive and it was pretty sad to say the least:  http://m.examiner.com/examiner/pm_60899/contentdetail.htm?contentguid=LkYHRLMo
Here is the first post and email on Rex and Hudson:
2 great dogs, desperate for a place to go.  They are available together or separate.

"Rex and Hudson are two, very loving boys who are desperate to find a foster, rescue or adopter that will take them in.  Their owner doesn't want to give them up but has no choice as she is battling cancer and can no longer care for them.  Despite efforts to place them, they are "homeless".  Their owner is using her savings to keep them in boarding to keep them out of the shelter, but can only do so for a short time.  She is considering turning them into the Humane Society.  She is worried about them and needs our help.  Please share with friends, family and anyone you think might be able to help.
Both boys are 7 years young and came into their human's life as pound puppies.  They are mixed breeds, it's believed that one is a corgi/terrier mix and the other, a pug/terrier mix.  Both are very sweet, they get along great with everyone – dogs, kids, adults, you name it.  They would do great in just about any home.  They do not have to stay together.  They are stuck in long term boarding now and need a place to call home…whether it be a temporary or permanent home.
Rex and Hudson are current on vaccines, housetrained and neutered.
Second post and email on Rex and Hudson:
Transport is available anywhere in Southern California. Received an update today that these two are at risk of going to the shelter very soon.  The owner can't afford to board them and still no foster or home offers.  These are good dogs and their owner is very ill and heartbroken over this.  There has to be a home or rescue out there somewhere that can help turn this unfortunate situation right in some way. These boys are easy keepers, well behaved, social and not too big either, only about 40lbs."
The basic story is a very sweet woman named Michelle has come down with cancer and is no longer able to care for her two dogs. Michelle sold her house and moved into a smaller apartment while she is receiving care and is using her money to pay for the dogs to stay at a long-term boarding facility. She could not afford to continue paying for the dogs for much longer nor could she care for them, so while she is confronting serious cancer she had to both deal with her disease and not knowing if her dogs would be euthanized because she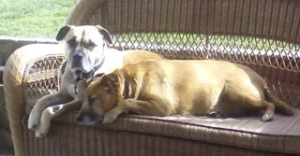 was incapacitated or worse because of cancer. Well, granted, this is a bit of mission-creep for Mav's Rescue Friends as these dogs were not injured or in need of critical care, but we are not yet a foundation at this point and so have great flexibility. This is one of the main reasons we wanted to start this way as our mission may change (and already has) over time, and we want the flexibility to focus on what we feel are the most pressing issues (i.e. more and more we are feeling all the effort of animal rescuers will be very suboptimal if we do not focus significantly more on spaying and neutering).
The post on Rex and Hudson was especially touching because dealing with this devastating illness is obviously unimaginably difficult; however, it seems horrible to imagine that she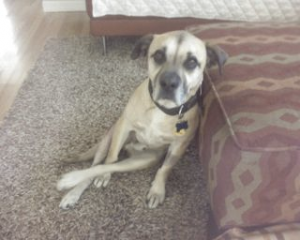 also has to deal with that knowing her two beloved dogs would be euthanized due to her illness. It is just an awful situation.
After seeing this post, Mav's Rescue Friends immediately contacted Katie at Bail a Tail Rescue in Tujunga, CA to ask her about the situation. Katie is exactly the kind of person we feel fortunate to have gotten to work with during our small efforts at Mav's Rescue Friends. She created a rescue in California to help as many animals as she can and when she got a call from Michelle about Rex and Hudson she committed to helping even though she did not have the rescue funds in her rescue to care for them right now. She did something amazing and got the story of Rex and Hudson posted nationally. All we can say about Katie is that although we do not know her well she is clearly devoted to helping animals.
After discussing the situation, she said she was looking to raise money to keep the dogs in long-term boarding. This costs $20 a day or $150 a week. Given that Rex and Hudson are two older mixed breed dogs that would preferably be kept together, it could theoretically take a year to find them a home though it might take only a few days because of the national posts about them-who knows. We told Katie that Mav's Rescue Friends would love to help but wanted to structure it in a way that Michelle would be given the peace of mind of knowing her dogs were taken care of no matter what happened to her. The problem we foresaw was that if we donated a certain amount covering six months or a year or whatever, the dogs would be stuck in a boarding facility and might be seen as less of an urgent cause by rescues since they were being supported.
We spoke with Katie about other options and she mentioned something called a paid-foster that would be a bit more but the dogs would at least live in a house. We had no idea there were paid fosters so I guess you learn something new every day. We do not know what to make of paid-fosters yet. Does this allow a foster to take on more dogs than they would otherwise as they could work less elsewhere and take care of more dogs? We do not know yet but plan to research this more to have some real opinions to add. Katie knows a great paid-foster so that seemed like a good option.
After speaking to Katie for a while, we all decided the best course of action would be to offer either a local rescue organization who is short on donations or the paid foster a sum of money up-front that they could keep no matter how long Rex and Hudson took to find a new home in return for their commitment to caring for them until a home is found. The basic thinking was this: 1) Michelle would only be able to rest easier knowing Rex and Hudson would be taken care of regardless of what happened with her; 2) Rex and Hudson would be protected and have a great place to live; 3) the rescue/foster would get money and be incented to find them a home as fast as possible and if they are successful quickly would actually be better off. In other words, it would be a win for Michelle, the dogs, and the foster/rescue. The tough part would be getting a firm commitment from the party that they would care for these dogs whether it was for 1 day or 3 years but that given this article on Rex and Hudson had been posted nationally and we had seen it in the northeast they might find homes very quickly.
Within 15 minutes, Katie got back to us and had come to an agreement with the nice paid-foster she knew. Rex and Hudson were going to be safe. Katie was the key ingredient here as the foster knew that Katie would keep helping find a home aggressively for Rex and Hudson so she would not be taking care of them. The foster definitely would not have gone for this deal if it weren't for her knowledge of Katie's passion and focus.
Katie then emailed us back a few hours later telling us of Michelle's reaction to finding out about Rex and Hudson and giving us great news: "Ends up a wonderful senior dog rescue group is going to take them in.  Just confirmed this.  They will live on the ranch with full access to the house and they will live there until a fantastic home arises for them together.  Or they will live out their lives there together in peace.  Either way they will want for nothing for the rest of their lives."
Katie is an amazing person to say the least. Even after the problem for Rex and Hudson had been solved, she kept pushing for a better solution for them. A great rescue named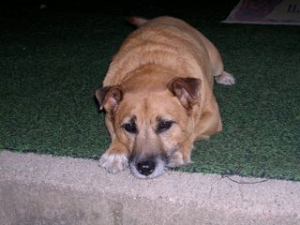 Modjeska Ranch Rescue offered to take them in so Katie passed along the donation to them-what a great outcome for everyone  www.modjeskaranchrescue.org. Here is also a link to their sanctuary page so you can see the dogs they have living on their property that will undoubtedly become friends of Rex and Hudson: http://modjeskaranchrescue.org/sanctuary.htm we could not be happier with this outcome- the world works in amazing ways sometimes. What is shocking about dealing with people like Katie is she commits so much time and energy to this cause without asking anything in return and made everything so easy for us. From our 30 minute conversation with Katie we continued to learn a lot more about the rescue world, how she works, about different ideas, etc. Thanks for everything Katie!
10/2/11
Katie sent us over the nicest email this week letting us know Rex and Hudson were dropped off by her and Michelle at their new home and she sent over some pictures that put a big smile on our face.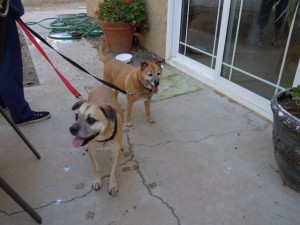 A couple had pictures of Michelle in them and showed the beauty of the ranch but we do not want to post her picture to protect her privacy. Granted, this does not fit within the original mission of Mav's Rescue Friends but it has been one of the most rewarding things we have done. Life is very tough for us all sometimes and people have always been there to help us out so it is nice that although Michelle was very sad to drop off Rex and Hudson she will be able to rest a bit easier.
11/12/11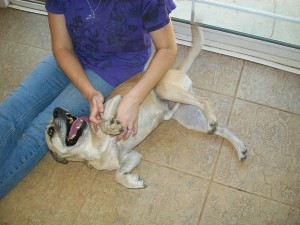 We received an extremely nice and sweet email the other day from Katie at Bail a Tail Rescue letting us know that Rex and Hudson have actually been adopted from the ranch! It is completely unexpected as the purpose of the donation was to allow them to stay at the ranch forever but this is a far better outcome. They have been adopted together into an extremely loving family and will live the rest of their life together in bliss hopefully! Here are some pics that were sent over of them to us.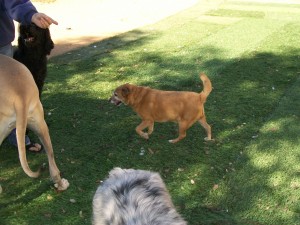 3) Pets for Patriots
We read an interesting post recently about a woman who was in the military and was trying to adopt the dog that she worked with but was recently taken out of service and was having no luck. The posting linked to an online petition and discussed how the dog could be euthanized if the decision was not made to give this decorated member of our military the dog. The post was by an organization named Pets for Patriots.
We started reading up on the organization and think they have just one of the best causes we have come across in dog rescue. Their basic goal is to unite older and special needs animals with military vets and do it in a way that limits the financial impact on our military heroes. Their undertaking is not for the faint of heart as it requires a great deal of leg work to get up and running. The model is to sign up veterinarians and animal shelters all over the country so that the shelters discount their adoption fees and the veterinarians discount their services so that former military personnel that may not be able to afford a new dog can adopt a pet. On top of that, they then have to publicize their organization within the military community. As you can imagine, signing up tons of organizations all over the country while gaining exposure to the charity and fundraising is a tremendous undertaking but it is without a doubt an incredibly worthwhile cause.
In their own words, here is their vision:
"We create unique opportunities for members of the military community  to save a life by honorably adopting homeless adult dogs and cats.
We support member Patriot adoptions of adult shelter pets, large dogs  and special needs animals – those most in need of a loving, forever  home – from any of our member shelters. To ease the financial costs  associated with pet ownership, we partner with veterinarians to deliver a  minimum 10% discount for the life of the adopted pet's care. Pets for  Patriots provides access to additional cost reductions for pet basics,  such as food, toys and essential supplies.
We're determined to make the joys of adult pet ownership achievable and affordable for the men and women of the U.S. military.
Our goal is to make the benefits of shelter pet adoption a reality  for military personnel, ensuring many years of friendship, companionship  and joy with their honorably adopted dog or cat."
After looking at their site for a while we saw that one of the things they raise money for is to give the adopters gift cards upon adoption and in successive years to help pay for dog food and other supplies. We immediately contacted them and asked if Mav's Rescue Friends could donate funds to help out with a couple of adoptions and were in awe of how fast the head of the organization Beth responded to us.
As we have been going through the process of scaling up Mav's Rescue Friends and interacting with rescues, we have found that we are actually able to get quite a good feel for organizations based on the tenor of their emails, how fast they respond, and the content. Beth emailed us back and forth probably ten times that day and we were delighted to learn that they are not located too far from us. We are hoping to meet Beth and perhaps work/volunteer with her organization over time as we love the cause.
If you are looking for a place to donate and/or volunteer you should give Pets for Patriots a serious look. You will without a doubt enjoy working with Beth and you can do an amazing amount of good helping them accomplish their mission. Dogs and patriots, what's not to love about that!
4) The Nature Association of Romania
In all of our searches online for the various rescues of the world, one that we stumbled across is The Nature Association-"Romania's Number One Animal Shelter." We do not know if they are indeed the largest shelter there but we have been following their posts online for some time: http://www.facebook.com/nature.association.romania?sk=wall.
The one thing we have become more aware of since starting Mav's Rescue Friends is that as bad as dogs and cats have it in the United States, it is much worse elsewhere. The way animals are treated in many other countries is deplorable and we have come across many great non-profits internationally who are doing great things to save animals one at a time. One such rescue organization is The Nature Association.
Here is some information from their page: "Bucharest  is home to anywhere between 100,000 to 1 million stray dogs. Every  year, thousands are killed by cars, poisoned, die of hunger, or freeze  to death. We are a foundation that is fighting hard for the  city's animals. We receive no regular funding and depend fully on  donations for our work. Our 100% non-kill shelter is currently home to 60 cats and 350 dogs. Our volunteers also feed hundreds  of dogs in the area and organize large sterilization campaigns. The  shelter offers food, water, vaccines, and emergency medical treatment.  We also organize over 100 adoptions per year – please see our adoptions  album. "
When we contacted The Nature Association, they emailed us back and forth a number of times almost immediately and were so nice and easy to deal with. We had seen them try to spay and neuter 25 animals once every few months or so whenever they think think they can raise the money. We contacted them and said we would like to host their next campaign for them and cover the spaying and neutering of the animals matching their next campaign they plan to do. So, now, they will be able to do 50 spays and neuters and hopefully use our matching donation as a way to draw out donors. We were humbled to hear there appreciative responses back over and over again. For instance, this is a snippet of an email they sent us: "Again we can't express our gratitude enough. I've told all our other (3)  volunteers about this and they're just thrilled, we've really never had  an individual sponsorship like this before. It gives us some extra  energy to make it through this disastrous winter
" This is a very different experience than giving money to many other charities.
We will update this page with pictures of the 4 days of sterilization they are planning in March but we are posting pictures below of their organization.
5) Grace
Young Grace is an absolute heart breaker that we learned about online. She was rescued a day before her death by a very nice lady named Alex in Miami, Florida from a kill shelter. As you can see from her pictures, she is not in good shape.
Grace has not had an easy life and has been suffering from demodex mange and a mangled leg. She has a radial fracture with nerve damage, and she therefore drags here leg around. This heartbreaking ailment has led to her walking on three legs, but the leg keeps getting open sores on it from being dragged around. Her leg can't be repaired unfortunately so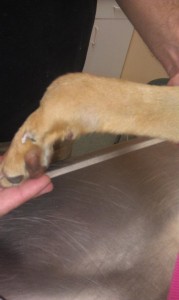 amputation is the only option.
Amazingly, Grace is still in top spirits. She is the sweetest dog and hops along happily, climbs up and down stairs, is potty trained, and loves being around everyone. Grace is seemingly a perfect dog and given that she is potty trained her rescuer thinks she was just dumped at the shelter because of her leg. This is exactly the kind of problem Mav's Rescue Friends wants to help solve so we are thankful to have people out there like Alex who rescued her and wrote about her online.
We saw Grace posted online over the weekend with facebook pages about her, comments about her, and an online chipin. We watched the chipin over the next few days to see if they would be able to raise the money for her and they got about 1/3 of it but did not get any incremental donations over the past couple of days. So, we called up Alex and Second Home Rescue (who is helping with Grace) and they told us that they
were not able to get Grace her surgery without the raised money. Alex told us that her veterinarian had offered to do Grace's amputation for a drastically reduced price, so we called the vet and they said Grace had a great prognosis and would be back to normal soon. We told Alex we would be delighted to sponsor Grace's surgery if she was committed to watching over her as she healed and finding her a home. Alex of course said Grace had a home at her foster's house as long as she needed. So, again, Alex and the foster have done all the heavy lifting. They pulled Grace from imminent death, have fostered her back to health, posted online continuous pictures and information to raise money for her, and have committed to finding her a new home after her surgery. Alex and Second Chance Rescue are truly protectors of Grace.
We knew when we started this that we would learn a lot along the way but one thing we have really enjoyed is finding animals in need of help online and working with local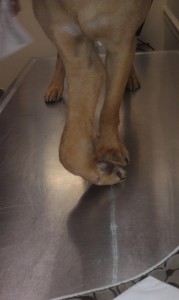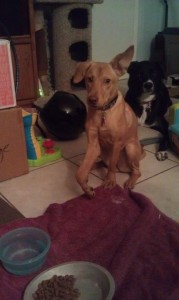 rescues to help out if we can. It is very rewarding because the local rescues are always amazing people doing amazing things so we are able to learn a great deal from them. We are just so amazed by how many incredible volunteers there are in this country doing such unbelievable things and we feel blessed to have the opportunity to have gotten to know some of them a bit better. Hopefully, if we continue on this path, we will be in a position to have a better Mav's Rescue Friends down the road.
We got a very nice message from Alex today that Grace will be getting spayed and having her leg amputated on Monday. We are crossing our fingers for little Grace.
Update on 12/30
Great news! Grace's leg amputation was successful and her rescuers are already looking for a permanent home for her. We have emailed Bernadette from Second Chance Rescue back and forth and spoken with her on the phone and her work with Alex has given Grace a great shot at life.
Here is a post about her in case you are interested:
"Grace available for adoption rescued from MDAS. Grace has been through so much. She is a puppy at 10 months old and had her leg amputated as she was no longer able to use it and her leg could not be saved. She runs around great with 3 legs and is so sweet and has a great spirit. She is such a special girl. If you are interested in adopting Grace, please contact Alexandra…
This sweet little girl is only 25 pounds, full-grown, house-trained and homeless…..for the holidays….how sad is that? Who out there is ready to fall in love?…. Please contact Bernadette…, if you can open your heart & home to Gracie! Thanks!"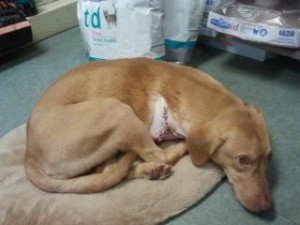 1/8/12
We got a nice text from Alexandra saying that Grace is recovering well and that she is getting used to her new form. Today, she put up a link on the MDAS facebook page with a video of grace running around. The pictures just do not do her justice-she is so incredibly sweet, bouncy and happy. The video put a huge smile on our face- we all can learn a thing or two from Grace I think and if you are thinking of adopting a dog you should definitely take a look at this link: https://www.facebook.com/urgentdogsofmiami/posts/247088918696301
1/18/12
Great news. Got word that Grace has been adopted by a family that fell in love with her. We are so excited for Grace to have a second chance at life!
6) TLR Horse Rescue
We have been thinking about making a major part of Mav's Rescue Friends charter to help new rescues form. We have been inspired by the many people we have met in the past year who are working tirelessly to save animals. One interesting thing we have noticed is that many do it without filing as a 501c3 which significantly limits the amount of donations they receive. Additionally, official rescues often have much more flexibility in pulling animals from shelters, nominating themselves for grants from major corporations, etc. The issue is that it takes over $1,000 in filing fees and legal fees to get the process going and if you are trying to save the world one animal at a time, you often have to choose between helping animals now vs. becoming an official 501c3 a year later.
Our basic thinking is that as we meet people that are extremely passionate and amazing rescuers, wouldn't it be nice to help them set up as a 501c3. Donating money for this theoretically should have a multiplier effect as these organizations should then be able to grow and raise more money. Of course, not all will want to become official charities and not all will last but if a small fraction do then it seems like it will have been worth it.
Enter TLR Horse Rescue. We saw a post from this passionate horse rescuer at TLR Horse Rescue that had already gone done the path to becoming an official 501c3 but hadn't raised the funds yet for the filing fees. All the paperwork is done she just needs the funding to move forward. H We spoke with another horse rescue who had worked with her and talked to her on the phone as well, and it seems clear she will not rest until she saves as many horses as possible. Leann is clearly an incredible person to say the least, and we feel fortunate to be able to help her rescue with the filing so that she can grow her rescue and raise more money.
In the process of learning about TLR, we spoke with Penny at One Horse at a Time Inc http://www.onehorseatatimeinc.org/ as well and learned so much. They started their horse rescue a few years ago and are growing rapidly and helping so many horses. Check out their website it is one of the best rescue sites we have seen yet. We asked Penny about horse rescue as we had never talked to one before and she was very generous with her time, explaining some of the challenges that exists. Interestingly, one of their main goals is to limit the number of new horses born as they believe if you lower the population there will be less suffering; the same as with dog and cat rescue. We asked what challenges a newer rescue might face and she said that some try to do so much good that they take on too many horses that they are unable to afford them. Given how expensive horse care is, this seems like an additional challenge vs. dogs or cats. We wanted to thank Penny online for all of her time and help along with Leann. We always try to learn when we talk to these saints, but feel badly that most of the conversations are a one-sided effort where we are getting educating.
Once TLR files the paperwork, it takes 6-12 months to be officially recognized so we will update this when we hear that she has been officially approved. We should note that we can't help but feel lazy whenever we talk to people like Leann and Penny; they are tirelessly working on a local level to save so many living animals that we should all feel fortunate that there are people out there like her. Happy holidays
Update on Leann and Penny
We wanted to update this and reiterate how pleasant our interactions with Leann and Penny have been. If you are thinking of donating money for horse rescue you could not go wrong with either of them. Penny's charity has been so successful that they are getting significant funding traction. Leann is now just starting but we follow her facebook page and watch how hard she is working at. She always emails us right back whenever we send her a message as well with a really kind email to boot! She must never rest. By the way, I normally do not post things people email me but I thought this message from Leann was something that defines her well after we told her we look forward to her saving the world: "I don't know about saving the world but I will save everything God brings my way." Here are some pics of Leann's farm in case you are curious: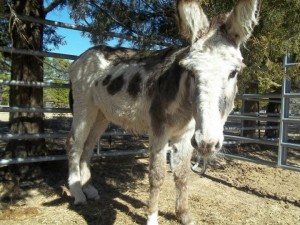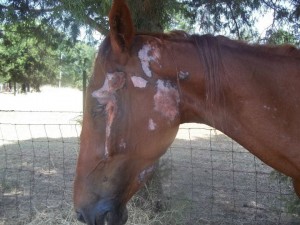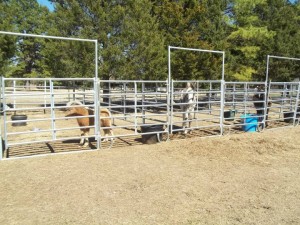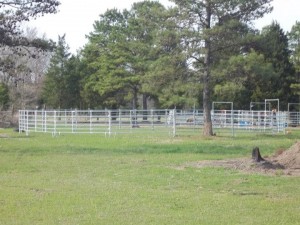 Update on 1/29/12
We saw on Leann's facebook page that she has filed the paperwork. Here is her post (she writes from the point of view of Bart the Donkey by the way): "Up Date: From Bart the Donkey, all the paperwork is finished, and going out today for our 501c3 status, Thanks to Donations, The Rescue will be a Non Profit Foundation, now the Rees' can apply for grants to enlarge the facility so we can help more horses, Thanks to all the help."
7) Angela's Cat Rescue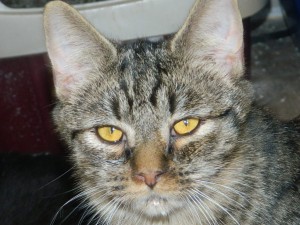 We saw a plea online from a great rescue named Angela's Angels Cat Rescue http://angelasangelscatrescue.org/ for help with spaying and neutering. Here was the post we originally saw:
"We need $xxx dollars in order to spay four females and neuter five males. This needs to be done ASAP. The sooner we have the cats spayed/neutered the sooner they can be adopted and we can save more lives.
Everyone knows spaying and neutering is by far the MOST important part of rescuing! Without ensuring the cats that you have rescued will not reproduce and add to the overwhelming overpopulation, would be highly irresponsible and would be doing the cats an injustice. Not only are there too many cats and not enough home already, but a spayed/neutered cat is a much healthier and happy cat.
Please consider making a tax deductible donation so that we can get the nine kitties spayed/neutered and vaccinated and on their way to their fur-ever homes."
We monitored her fund raising and checked her website, facebook posts, etc. and she was having trouble raising the money for this. Angela is one of the truly remarkable people in the world who spends all of her time and money helping animals. Her rescue saves many dozens of cats a year and she is a rural area where it is hard to get funding. We saw many people saying nothing but favorable things about her rescue and really think she is the kind of example that we want to help-where she is having a short-term funding issue to get caught up on spaying and neutering and raising money for other needs to get her back to a sustainable operating level.
As we have written about in the past, we believe spaying and neutering is one of the most vital parts of animal rescue. For each animal you can stop from reproducing, many more animals are saved. We sent Angela an email and she responded right away with the kindest email along with the names and pics of most of the cats. Mooch, Miss Boo, Swiper, Beggar, Creamy, Chewey Sugar & Spice, and Heme-I am sure you agree they are great names!
Here is what she wrote about the cats: "Mikey & Boo are two new kitties we rescued (we were told they were feral and they are not, they were just very scared and are a bit skittish) Sugar and Spice were rescued from outdoors around houses that were condemned after hurricane Irene. There were some giant dogs out there and they killed two cats while we were trapping the cats. Heme was rescued by someone outside of their job, he was all by himself by a busy road. Creamy, Chewey, Swiper & Beggar  were dropped off in a box and were covered in feces and urine." She offers low cost spay and neutering for people in the community and in her words "we plan on doing our part to fix it one spay/neuter at a time!" We are all very lucky there are people like Angela in the world and we are delighted to be a small part of her rescue efforts.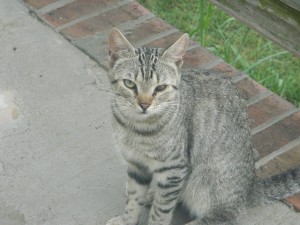 8: Melody
We saw a post about a beautiful little girl named Melody who nobody would adopt  from a shelter in Georgia because she has heartworms. This is a common problem we see with dogs at shelters because heartworms can be very expensive to treat and the shelters don't have the money to spend doing it and adopters are thrown off by the potential for very expensive bills and a sick dog coming right out of the gate.
The post was from a great rescue called AARF-Atlanta Animal Rescue Fund: http://www.aarfatlanta.org/. Here is what it said:
"Melody is currently at the DeKalb County shelter, and has heartworms! Unfortunately, most of the dogs with heartworms rarely make it out of the shelter. Adopters are often scared of the treatment or aren't in a position to take on the financial responsibility of heartworm treatment. But…. we have a potential foster space for Melody! Before we can
commit to bringing her into our foster program, we need to raise enough money to cover her heartworm treatment.
Can you help us raise enough to cover her treatment and keep her from
going back to the shelter?"
We emailed AARF to make sure that if we would donate the money they did indeed have a foster who would save Melody. They confirmed that they did and in fact Melody was at the Dekalb adoption day AARF hosted today so they already know she will make a great pet for someone. The day was held at AARF Pet Central which is their headquarters and from which they sell products, grooming, etc. to help fund their rescue. They definitely have their act together and emailed us back almost instantaneously so we definitely would recommend others support AARF. We can't wait to get the good news back from AARF once she is adopted.
2/26/12
We got an update from AARF and Melody is doing great with her foster.  Seems like she will be adopted any day now. Fingers crossed! Here is an update pic they sent over with her foster.
5/3/12
We got a message recently from AARF that Melody was just adopted, and we could not be happier for her. Here is the email:
"Dear Adrian,
Just wanted to let you know that Melody (now named Rime) has been
adopted! She completed her heartworm treatment, and a vet tech at the
clinic just fell in love with her."
AARF is really a wonderful organization and it was extremely nice of them to follow up as soon as Melody was adopted. Thanks AARF!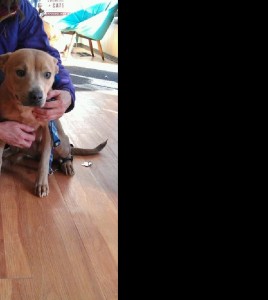 9) Mr. Diggs
We saw a posting online for a miniature pinscher like Maverick that tugged at our heart strings, and we decided we wanted to see if there was anything Mav's Friends could do to help Mr. Diggs. Here is the posting:
"That is my heartbreaker…his name is  Mr.Diggs(802-5051), senior  Min   Pin..no hair left on his body, sores and a mass  on his behind..I  just   broke my heart seeing him sitting is his cage crying…He  wants  to  be  loved and has no idea what he is doing in this place…he is so     lost…I am assuming that his vision is very limited, he might be   around  8 years  old, see next pic for a body pic:-((
We contacted the woman who posted this immediately after seeing the post and within hours we made a plan for Mav's Friends to work to help save Mr. Diggs. The rescuer is an extraordinary person and works tirelessly in Georgia to save as many dogs as she can. We won't give the exact number, but she has a pack of dogs living with her that she could not stand to watch die. We told her that we wanted to help save Mr. Diggs and that we wanted to work in partnership with her charity. The great thing about talking with warm-hearted people like her is that things are incredibly uncomplicated and easy. Mav's Friends would sponsor his care if she could save him from the shelter tomorrow and take him to the veterinarian-she is doing all the heavy lifting.
As you can see from the pictures below,  Mr. Diggs has been kept in horrible conditions, and it was heartbreaking to look at him stuck in that cage. He has major skin issues, is deaf, and has a large growth on his rear-end. He is undoubtedly uncomfortable, in pain, and scared, The one thing we can tell you from our experience with minpins is that they are often called "velcro" dogs because they cannot stand to be alone, so we were not surprised to hear Mr. Diggs was whining in his cage. Mr. Diggs, deaf and sick, was abandoned by his owner on the streets and picked up as a stray. Imagine that, you take awful care of your pet who loves you more than anything and then just leave him on the street to get hit by a car or worse.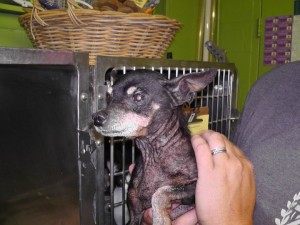 The rescuer had seen Mr. Diggs locked up at the shelter and through her determination and posts about him online, she was able to bring attention to his situation.
10) Bodhi
So, as we promised when setting up Mav's Friends, we are destined to change a lot as we approach the rescue world. We originally thought there would be tons of people who found us organically through Google and other searches. Well, we apparently are too hard to find so we have resorted to looking for cases online that we might be able to help with and have found that it might actually be an interesting charitable model going forward.
We conduct a number of searches and look around and it is in many ways easier than screening people who come to you we are finding. Through various website postings and social media, we can see both who needs help and who we are in a position to help out. Thus far, we have found that dogs that get national attention or are covered in the news have a line of people looking to donate money and adopt. We see lots of cases of animals that have already been saved and rescues or organizations need money to cover the hole they have dug themselves into or that have not been able to afford surgery or care for a dog they have taken in. We see some cases where an individual will find a lost dog and not be able to afford their care but are willing to foster. Quite simply, there are lots of different types of cases so we are learning a lot by reading them, seeing who gets help and who doesn't, what is effective, and what costs are involved.
We could see potentially changing Mav's Rescue Friends mission to proactively finding rescue situations as opposed to allowing people to contact us. It is just a thought at the moment, but we have met incredible people in our initial efforts and it may be a way to maximize value of the donations we receive. For instance, beyond cases of injured dogs we have also seen posts from individuals who have found abandoned animals that need mild veterinary treatment but they are willing to foster them-this is a great use of funds in our opinion. We want to try to help find a way to solve all these problems long term so as always we are just in the idea stage.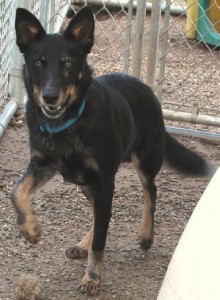 With this in mind, meet Bodhi. We found Bodhi online at the rescue organization Herd it Through the Grapevine with the following post:
"Bodie (aka Porter) is an extremely sweet, amazingly accepting, and quiet little fellow. When we rescued him, he was on "the list" to be put down that same day, with no other options except us. Several people who saw him at the shelter asked us to save him. When he arrived, we noticed that he was holding a rear leg up much of the time. An x-ray of Bodie's leg revealed a very old and badly broken leg, that must have occurred when he was still a growing puppy. Bodie's currently about 1 year to 18 months old. The leg has not grown properly and the vet recommended surgery, which he estimates will cost…
The day we rescued him must have been a very confusing and stressful day for him. Yet, when he was poked and prodded by the vet, each time he quietly tolerated all the indignities without complaint, and signaled his forgiveness with a low wag of his tail to his handlers. Bodie is wonderfully easy going, calm, and patient, not to mention, great with everyone, including cats, dogs, and children.  On his first night in his foster home, they found him sleeping with the cat!
Please help us pay for Bodie's much needed surgery. Any amount would be greatly appreciated. If everyone who reads this contributes a little – even $5 or $10 – towards Bodie's surgery, we should collect enough to pay for his procedure. As a federally approved 501(c)(3) organization, donations to our rescue are tax deductible. We will keep you updated on this little guy's progress!
We teamed with Countryside Rescue to save Bodie and get him the help he needs."
Bodie, who has since had his name spelled Bodhi, seemed like a great case for us. He is a great dog with a straightforward fix that would solve his problems. We emailed Marina at the rescue to chat and could not have enjoyed chatting with her more. She is out in California and doing really great things in the rescue space on a limited budget right now. She told us all about Bodhi and we could not wait to help. Interestingly, she asked how we had found her as nobody else had contacted her. We said, "social media, google, etc where else?" One interesting fact she told us about her cause, rescuing herding dogs, is that she is so focused on getting these dogs out of shelters because they are so working oriented that they can go crazy if left in shelters too long and become unadoptable. We have never heard this before but makes intuitive sense.
Marina talked to two different vets and an orthopedic surgeon to figure out Bodhi's best option and an amputation was agreed upon. Marina passed along a great quote that dogs are made with three legs and a spare because they get along so well on three legs. Especially if it is a rear leg they lose, they can adjust very easily. She told us that he had a foster that she thinks would adopt him if his leg were fixed. We offered to pay for his surgery and meds but we asked for one thing: that she try to get the veterinarian to agree to cover any additional costs if there are unexpected complications. This is not a necessary condition for us helping but we want veterinarians to have a vested interest and we do not want people we help to be in a situation where they are constantly having to raise funds for incremental treatment; this will be unavoidable in many cases though we are well aware.
Marina was so great to talk to that we spent 45 minutes on the phone with her and she even invited us to visit her if we ever find our way out to California. She had a dog that required a front leg amputation in the past so we discussed the difference between a rear leg and front leg amputation and it worried us a bit more about putting Cosita in a position where she ultimately needs a front leg amputation.
Marina is doing so much good for all of her rescue dogs that it is making us jealous we don't have the space to have our own pack of rescues. We look forward to getting the results from Bhodi's surgery as well as keeping in touch with Marina and Herd It Through The Grapevine in the future.
Update
So, today was Bodhi's surgery day and Marina called us to let us know how it went. Interestingly, the vet did some more last minute xrays and decided that he wanted to wait a little longer to amputate the leg as it is not bothering him right now as much. The argument being that once you amputate a leg you can't put it back on so let's see how much this bothers Bodhi over the next month or so. So, this seems clearly like good news for Bodhi.
Marina called us with the good news and wanted to talk to us about what to do with the donation for his surgery. She originally thought if Bodhi's surgery were covered, Bodhi would be adopted by his foster. She still thinks this will be the case and does not know if Bodhi will need surgery in a few weeks or may not need it for a year or ever. Marina is an awesome person and immediately offered to send back the donation but she will be able to do far better with it on helping other dogs than we will. Last month alone she placed seven border collies and cattle dogs. We just told her to keep the money and to either use it for Bodhi or to call us when she finds another rescue case in need of medical attention.We agreed in the meantime the best thing to do with the money was keep it there to "endow" Bodhi in case he needs it. We could not be happier with the result of working with Marina. By helping sponsor Bodhi, we are hopeful that he will in fact now be adopted ASAP. Best case scenario he does not need the surgery and the money goes to another surgery. If that is the case, we look forward to working with Marina again soon to find another dog in her area that is in need of help.
We can't say enough nice things about Marina and her rescue. There is no doubt that Marina's rescue will continue to grow and that she will be able to help a ton of dogs in her area. The couple of hours we have spent on the phone with her already have been extremely helpful in enhancing our knowledge of the rescue world so we are appreciative of all of her time. Thanks Marina!